Core Empowerment -Initiate a Seamless Employee Engagement Process
Course DurationTo be confirmed
Start DateTo be confirmed
Delivery MethodFace-to-face
Date for this course is not yet confirmed. Please
contact us
.
Overview
Most industry leaders are aware that successful organisations depend largely on staff who are deeply engaged with the values, mission and vision of the company. Without this deep engagement, staff are unmotivated and will go about doing their work without the care and the enthusiasm to bring their organisation to the next level.
Knowing this is one thing, but knowing how to create employee engagement is quite another thing.
In pursuit of success, we spend vast resources on trying to make the product or service perfect. Yet, as leaders, we often neglect the one major component in the pursuit of success: that without an engaged workforce, the organisation cannot succeed.
How then can leaders encourage their employees to have a deep and meaningful relationship with their organisation; to use discretionary efforts that are self-directed; to be engaged with the organisation?
This workshop is built around those questions.
Who Should Attend?
This workshop is intended for all from the top management to lower level staff. They will find this workshop very useful and invaluable in moving people processes in their respective departments and the organisation as a whole. This workshop will be an eye opener in understanding the complexity of human behaviour process and the social operating systems in organizations, yet simple enough to make progress for the self and the organisation.
Course Outcome
Less judgements, more acceptance and empathy
Less personal conflicts; genuine agreements
Less disintegration, more cohesiveness
Reduced frustrations, increased motivation
Reduced exclusion, increased diversity and inclusion
Maintain consistent delivery of results through internal alignment of self, the team and corporate milestones
Discover subconscious "Operating System" that runs 24/7
Develop cohesive work culture through personal and work boundary management
Uncover emotional triggers that propel your performance
Enhance progress in career and life by releasing psychological blocks
Discover the art of responding to environmental stimulus
Emerging and thriving in YOU (You Own Uniqueness) in the corporate environment
Course Outline
1. The Knowledge Bowl of Empowerment
Update yourself with the latest methodologies in learning. In a globalised competition and the entrance of the "Wisdom Economy", are we performing at the right level of human capital? 
Learning Outcomes:
Learn the art and science of learning
Setting collaborative rules & expectations. 
Creating meaningful and lasting learning experiences
2. The River: Journey of Strength and Influence
An insightful and experiential understanding of beliefs and values. Mother Nature provides a powerful learning example: The River. You will be dissecting, neutralising and overcoming the blame game that is common in work culture
Learning Outcomes:
Understand the mechanism of decision making
Being the company's prized asset: The Contributor
Thriving in "Me Vs the Environment"
3. Pattern of Excellence and Response Management
Some say life is measured by the collection of moments: that great moments are created by great responses.
Armed with EgoGram and Transactional Analysis toolkits, you'll be empowered to readjust communication patterns in daily situations to achieve higher affinity and alignment with co-workers instead of being unconsciously "caught out"
Learning Outcomes:
Learn the art of responding versus reacting
Develop a clear and uncluttered mind in decision making
Handling 'difficult' people
Understand the power of 'delayed response'
4. The Mind's Bonsai: Being the Architect of Mental Excellence
Through a retrospective and introspective process, you will discover the mental engineering that brings about our 'reality'
Participants will adjure the workshop with heightened reflective thinking and renewed vigour to uncover, review and enhance their work life.
Learning Outcomes:
Mapping the structure of an optimized human mind 
Removing hidden self-imposed limits
Develop new learning and unlearning actions
5. Boundary Management & Flow of Performance
A fun-filled activity on discovering the nature of personal and work boundaries. See how innate psychological blocks can hinder our flow.
Learning Outcomes:
Identify and manage common pitfalls in personal and work boundaries
Utilise simple unblocking techniques/modalities
6. Fear Factor: Reality Game Show of Our Lives
Emerge – the stepping out process using the Ego Radius model for setting new path for personal growth
Empower – creating the internal alignment inside out
Learning Outcomes:
Learning to face the unfunded fears that limits our risk-taking propensity and limits us.
7. Changing Belief - impossible to possible
Embrace - The simplicity is in a consistent practice of ABC: Acceptance, Balance and Compassion. Winning in life is perhaps about increasing positive influence and neutralizing negative responses
Learning Outcomes:
Utilizing the power of patience and gratitude 
Enhancing the power of 'small wins'
Creating lasting and sustainable change for self and at the workplace
8. Debrief, Sharing & Review
Reinforcement and clarification of learning points. Sharing of best practices and case studies
Learning Outcomes:
Assimilation of concepts into current work processes
Creating actionable strategies for work and life
---
More courses for this category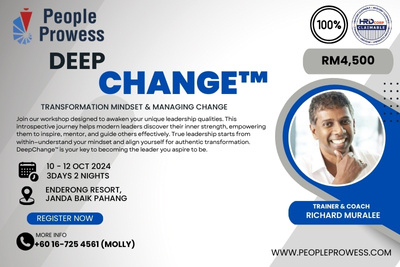 Signature Program
Deep Change - Transforming Mindset & Managing Change
Date to be confirmed
Venue: Shore House Port Dickson